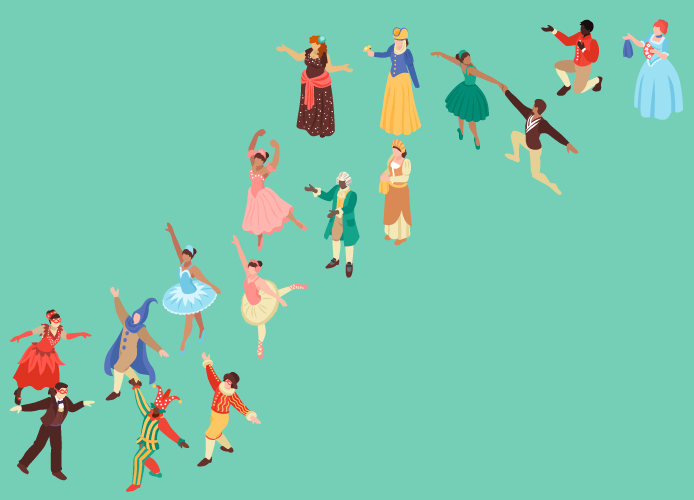 Being an artist is hard. Being a queer artist feels harder. It can feel like your options are limited and that your artistic community is half the size that it could be. Finding your space and your voice as an artist can feel impossible when you don't have a community to help nurture your growth. But we persevere, and we fight to make space because queer art is necessary.
I went to Theatre School in New York City, and I was fortunate enough to perform in a number of film and theatre projects after graduation. While I was grateful for every opportunity that I had, I always thrived when working with queer content. Because while I enjoyed playing the role of an Upper West Side drug dealer in the New York Fringe Festival, I felt truly alive performing in a show about the Stonewall Riots for the uniquely queer Fresh Fruit Festival.
Performing in a number of plays and films with queer themes and stories became an important part of the work I pursued, but when I moved back to Toronto in 2007 I felt like I hit a brick wall (possibly of my own making). The queer cannon I had been exploring seemed different and unfamiliar; we didn't study Canadian Playwrights in my American school. My theatre credits were acknowledged in the New York theatre scene but in Canada, no one knew who I was or what my experience meant. There are certainly queer theatre venues in the city, but I struggled to find my way in the door. Everyone seemed to know each other. They all went to the same school, had performed together, and had mutual friends. Getting seen for auditions felt like an uphill battle.
Eventually I started making those connections and pushing to find the opportunities that once again excited me. I started forging my own path and making connections that would help me in finding my community. In 2013, I auditioned for Darren Stewart-Jones' production of Sherlock and Watson: Behind Closed Doors. Being produced for Darren's own Gay Play Day Festival. I performed with the talented Nathaniel Bacon and felt an incredible sense of love and support from audience members that were committed to this small festival.
I was hooked, this was my scene and these were my people. The following year I worked with Jess Bryson to co-write and perform in a new show called Wordplay. The show was well received; the Gay Play Day festival gave us the space to create and experiment with a show that would catapult us into travelling the world to share our story at the International Dublin Gay Theatre Festival and the Edinburgh Festival Fringe.
And in 2018 I had the pleasure of directing Mark Keller's show, Missed Connections at the Gay Play Day festival. Who coincidentally I met in 2013 when he was also performing in the festival as well. I had no idea at the time that he would become a close friend and collaborator on a number of future projects.
This festival helped me to find a new sense of community in the Toronto Theatre scene, make lifelong friends, and has provided me with a space to create and grow my own work. In 2019 the festival was rebranded as the Toronto Queer Theatre Festival to better represent an inclusive mandate. And in 2020 the festival is moving in a slightly new direction under the leadership of Mark Keller and myself at Theatre Topikós, with a continued mission of providing an opportunity for queer artists to produce unseen work that is bold, topical and meaningful.
My passion for queer theatre doesn't negate or attempt to simplify the power of any other theatre, there is plenty of space for all art in theatre, but my passion exists with the intention of amplifying queer voices and to grow a community of support for bold stories and new audiences. In this space, I'm also hyper aware of my privilege as a cisgendered white gay male, and my goal is to use this advantage to engage and work with more diverse members of the community that we serve. Diversity of thought and experience is our most incredible tool when sharing stories with theatre goers.
More information will be shared soon regarding the 2020 Festival, which will also include a 24 hour playwrighting competition and an ongoing commitment to help find new voices in queer theatre. This festival has been incredible at pushing me to be a better artist by telling queer stories, and I hope that I can use the festival as an anchor for helping to support new artists that have stories to tell.
Past Productions